Yup... last night I went to see
The Island
with some friends. It was awesome. Very action-packed, with probably the best chase scene I've ever seen. I really enjoyed the movie and have every intention of buying it when it comes to DVD.
I've also started re-reading Garth Nix's Old Kingdom Series.
Currently reading: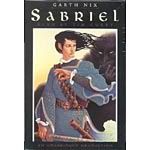 I bought his latest book:
and decided I should read the trilogy again before proceeding to this latest book of short stories.
Massive bruise on my leg, due to sea doo excursion, but otherwise I'm fit as a fiddle. Don't know if I'll be doing that again anytime soon though. My weekends are pretty much booked from now until school starts.
Reminders to self:
- Aya's cousin's birthday is this Saturday and the party next Monday
- Next Friday is the last day to prepare the lab for the new computers
- Monday the 8th the new computers come
- Friday the 12th Dad comes
- Monday the 15th Dad leaves
- Tuesday the 16th move into dorm
- Wednesday the 17th set up floor for residents
- Friday the 19th training starts
- Saturday the 27th last day of training
- Sunday the 28th residents move in
- Monday the 29th classes begin
Somewhere in there I have to attend at least one GA meeting.
My summer is practically over.
Ugh.